Check out these delicious and unique recipes utilizing healthy food, fresh ingredients, and Ideal Protein. Start at Phase 1-3, or jump to Phase 4.
Phase 1-3 Recipes
Chicken/Poultry Recipes
Beef Recipes
Dessert Recipes
Salad Recipes
Breakfast Recipes
Asian Turkey Burgers
Ingredients:
1 lb ground turkey
3/4 cup chopped onion (white, green, or red)
3 tbsp chopped parsley
1 finely diced green pepper
1/2 cup Walden Farms Asain dressing
1 tbsp low sodium soy sauce
2 tsp ginger
1/2 tsp each sea salt, pepper
2 cloves minced garlic
Combine all ingredients in a bowl and shape into 5-8 oz patties. Place on non stick skillet or BBQ grill, lightly sprayed with non stick cooking spray at medium heat. Cook until desired temperature is reached. You can "wrap" your patty in a Lettuce bun and top with additional veggies as desired.
Easy Chicken Dinner
Ingredients:
1 lb boneless skinless chicken meat, cut into bite sized pieces
1 red bell pepper, chopped
8oz mushrooms, sliced
2 cups zucchini, sliced
8 oz fresh basil, chopped
3 cloves of garlic, minced
3 tbsp olive oil
Sea salt and pepper to taste
Heat oil in large skillet on high, add chicken and sprinkle with salt and pepper. Cook chicken on one side. Add the vegetables and stir. When food is nearly cooked, push it to one side and add garlic-careful to not let it burn. After about 30 seconds, stir it all together and add basil. Cook another 30-60 seconds and serve! Makes 3 servings; each serving has 6.5 grams of carbs, 6 grams fiber, 40 grams protein, 353 calories
Spicy Chicken and Vegetable Saute
Ingredients:
1 lb boneless skinless chicken breasts, cut in 3/4 in wide strips
3 peppers (choose upon own desired heat) , seeded minced
1 clove garlic, minced
1/2 cup snow peas
1 large red pepper, chopped
2 cups bean sprouts
1/4 cup soy sauce
2 tbsp fresh basil, chopped
1/4 cup olive oil
Trim any fat from chicken. In a large skillet or wok, heat up half the oil (2 tbsp) over medium heat. Add chicken strips a few at a time, brown a few minutes and set aside. Add remaining oil to wok and fry pepper, garlic, snow peas, and red pepper for 4 min. Return chicken and accumulated juices to wok/skillet. Add bean sprouts, stir in soy sauce, and cook for a few minutes. Add fresh basil before serving.
Turkey Meatballs
Ingredients:
1 lb ground turkey
2 egg whites
1/4 cup dried parsley
1/2 tsp pepper
1/2 tsp paprika
1/2 tsp minced garlic
3/4 cup grated zucchini
3/4 cup chopped or grated cauliflower
1/2 cup finely chopped mushrooms
Mix ingredients, form into balls and place on cookie sheet, cover with foil. Bake at 425 degrees for 25 minutes. **This is a great family meal to sneak in more veggies for your family. You can make extra and freeze for up to 3 months. Top with Walden Farms BBQ sauce or marinara sauce if desired. Pair with a side salad or cauliflower mashed potatoes and Enjoy!!
Egg Salad
Ingredients:
6 hard boiled eggs
2 Tbsp Dijon mustard or Walden Farms Honey Dijon
1-2 tsp dill pickle juice
2 cups baby spinach
Dice eggs in bowl; add mustard and dill pickle juice, stir. Take half of mixture and top over baby spinach and enjoy.
"Breaded" Chicken
Ingredients:
Ideal Protein Soup Mix (Chicken, Leek, or Mushroom)
5-8oz Chicken Breast
Take the chicken soup and "bread" a piece of chicken with it and bake it in the oven for 25-30 minutes…it adds more protein to your meal and gives you a "breaded" piece of chicken that is healthy. You can also do this with any of the soups and any types of lean meat. Give it a try!
Fiesta Chicken
Ingredients:
4 tsp. Mrs. Dash Fiesta Lime Seasoning
5-8 oz boneless skinless chicken breast
2 tsp. olive oil
Preheat oven to 350. Lightly brush the chicken breast with olive oil. Sprinkle seasoning blend on all sides. Bake for 30 minutes or until cooked through.
Lemon Chicken
Ingredients:
5-8 oz. Boneless skinless chicken breast
¼ cup lemon juice 2 tsp. dried oregano
½ tsp sea salt and pepper
½ tsp garlic powder
¼ tsp black pepper
1-2 tsp olive oil
Heat oven to 375. Placed chicken in grease 9×13 (or smaller) baking dish. In a small bowl, mix together lemon juice, salt and pepper. Pour over chicken. Place in oven. Brush with olive oil every 10 minutes, turning chicken pieces over occasionally. Bake for 40-50 minutes or until juice runs clear when pierced with a fork.
Garlic Spinach Stuffed Chicken
Ingredients:
5-8 oz boneless skinless chicken breast
1 cup fresh spinach
½ cup tomatoes
½ yellow onion
½ tsp minced garlic
1 tsp olive oil
Flatten and butterfly chicken breast. Brown chicken in ½ tsp olive oil and cook through. In a separate pan add ½ tsp olive oil and let heat. Chop spinach, tomatoes, onion, and garlic. Add to pan with oil and sauté until hot. Spoon spinach mixture into chicken breast, close breasts and give a flash fry to each side and serve.
Gingered Chicken Breast
Ingredients:
1 Tbsp fresh lemon juice
1 ½ fresh grated ginger
½ tsp black pepper
2 cloves garlic
2 5-8 oz boneless skinless chicken breasts
Combine the lemon juice, ginger, pepper and garlic in a small bowl. Place the chicken breasts in a deep bowl and pour the mixture over the chicken turning once to coat both sides. Cover and refrigerate for 30 minutes to 2 hours. Spray a large nonstick skillet with cooking spray and heat the skillet on medium high until hot. Add the chicken. Cook, turning once until tender, about 8 minutes.
Grilled Chicken Ratatouille
Ingredients:
3 tablespoon(s) extra-virgin olive oil
3 tablespoon(s) chopped fresh basil
1 tablespoon(s) chopped fresh marjoram
1 teaspoon(s) salt
Olive oil cooking spray
1 red bell pepper, halved lengthwise, stemmed and seeded
1 small eggplant, cut into 1/2-inch-thick rounds
1 medium zucchini, halved lengthwise
4 plum tomatoes, halved lengthwise
1 medium red onion, cut into 1/2-inch-thick rounds
4 boneless, skinless chicken breasts (about 1 1/4 pounds), trimmed and tenders removed
1/4 teaspoon(s) freshly ground pepper
1 tablespoon(s) apple-cider vinegar
Preheat grill to medium-high. Combine oil, basil, marjoram and salt in a small bowl and reserve 1 tablespoon of the mixture in another small bowl; set aside. Coat both sides of bell pepper, eggplant, zucchini, tomato and onion pieces with cooking spray. Grill the vegetables, turning once, until soft, and charred in spots, about 5 minutes per side for the pepper, 4 minutes per side for the eggplant and zucchini and 3 minutes per side for the tomatoes and onion. As the vegetables finish cooking, place them in a large bowl. Cover the bowl with plastic wrap. Rub the tablespoon of reserved herb mixture on both sides of chicken and sprinkle with pepper. Grill the chicken until cooked through and no longer pink in the center, 4 to 5 minutes per side. Meanwhile, transfer the grilled vegetables to a cutting board and chop into 1-inch pieces. Return to the bowl and toss with vinegar and the remaining herb mixture. Serve the grilled chicken with the ratatouille.
5 oz Meatloaf
Ingredients:
5oz 97% lean ground beef
1cup mushrooms sliced
½ cup green onions sliced
½ cup spinach, rough chopped
1 egg white or whole cage-free egg
Walden farms BBQ sauce or walden farms ketchup
Spray pan with Pam spray. Saute mushrooms and green onion until tender. Remove from heat and add spinach. In a bowl, add ground beef, egg white and veggies. Salt and pepper to taste. Form into small meatloaf and brush with BBQ sauce. Bake at 350 degrees for 30 minutes or until done. You can also brush additional sauce on the meatloaf while baking. Make several ahead of time and freeze for a quick meal!
Zucchini Ground Beef Casserole
Ingredients:
2 pounds ground beef
1 small onion, chopped, 2 1/2 ounces
6 small zucchini, sliced in half moons,
24 ounces 1/2 pound fresh mushrooms, sliced
1 packet Ideal Protein Mushroom Soup Mix
Brown the ground beef with the onion and a little salt and pepper; drain the fat. Put the meat in a large, greased casserole, 3 quarts or larger. Sauté the zucchini and mushrooms until almost tender; season lightly and add to the ground beef in the casserole. Prepare the mushroom soup and stir into meat and vegetable mixture; adjust the seasoning if necessary. Bake at 350º 30 minutes or until hot and bubbly. Makes about 8 servings
Spicy Beef Flank Steak
Ingredients:
1/2 cup extra virgin olive oil
1/4 cup rice vinegar
4 cloves garlic, crushed with the skin
1 teaspoon cumin
1/2 bunch of thyme
2 teaspoons crushed black pepper
2 peppers, finely chopped
2 bay leaves
2 x 1 pound of beef flank steak salt and pepper
In a large Ziploc bag, mix all marinade ingredients and set aside. Make shallow incisions in the steak so the marinade penetrates more. Let marinate in the refrigerator for at least 2 hours. Preheat barbeque at high temperature. Put steak on hot grill to seer. Season to taste. Grill for about 5 minutes on each side. Serve steak rare or pinkish. Don't overcook flank steak-it would get a bit stiff.
Bun-less Burger
Ingredients:
1/2lb raw ground beef
Sea salt and pepper to taste
1 tsp. minced dry onions
2 dill spears, chopped
2 Tbsp Walden Farms Ketchup Mustard to taste
Lettuce as desired
Brown the beef and rinse any excess fat. Season with salt and pepper. Meanwhile, soak the dried onions to rehydrate them. Put meat in a large salad bowl and toss with the rest of the ingredients. Enjoy
Zucchini Apples
Ingredients:
2 cups zucchini
2 Tbsp Walden Farms Apple Butter
½ tsp allspice
1 tsp. cinnamon
Peel zucchini and slice in rounds. Place in a medium sized bowl or ziplock bag. Add apple butter, allspice, and cinnamon to zucchini making sure the zucchini is evenly coated. Place zucchini on a baking sheet and place in oven at 350 degrees for 20-30 minutes. Make sure the zucchini is soft before removing from the oven.
Dreamsicle
Ingredients:
1 IP peach & mango
1 IP vanilla pudding
Water
Ice
Pour 16-20 oz (480 – 600 ml) of cold water in a blender. Add the contents of the two Ideal Protein packets, ice and blend until frothy and thick. Pour into popsicle molds and freeze. Makes a delicious summer treat!
Lemon Meringue
Ingredients:
1 pkg lemon sugar free jello
1 IP vanilla pudding
Mix one cup of boiling water for one package of Lemon Carb Free Jell-O. Mix one cup of cold water with the Ideal Protein Vanilla Pudding. Once pudding is mixed, add it to the hot Jell-O. Cover and refrigerate until set. It will make a large portion that can be eaten throughout the day. It is still only one protein packet! Enjoy!
Chocolate Pudding is great with cherry, strawberry, and raspberry! Butterscotch Pudding is great with Orange Carb Free Jell-O.
Pudding Cake
Ingredients:
2 oz water
2 egg white
1 tsp vanilla extract
1 IP vanilla pudding packet (or any ideal protein pudding packet)
In a blender, combine egg whites, vanilla extract, and water. Blend well. Pour liquid contents into a bowl, and gently fold in pudding packet by adding 1/3 of the packet in at a time, and stirring the contents in between. This should create a batter. Using a muffin tin, or 2 corning ware dishes, divide the batter into the cooking ware. Be sure to spray the cooking ware with non-stick spray before adding the batter. Bake at 350 degrees for 15-16 minutes. Let cool for 5-10 minutes.
NOTE: ONLY fill the baking dish (i.e. the muffin tin or corning ware) 1/2 way. Too much batter may cause the cake to explode in the oven.
Chai-Tea Pudding
Ingredients:
IP vanilla pudding
Chai Tea (Herbal)
Spice up your vanilla pudding by brewing a strong cup (5 oz) of Chai tea, preferably decaffeinated. Then, let it chill. Mix the content of 1 Ideal Protein Vanilla pudding with the chilled Chai tea, instead of water. Shake vigorously in a sealed jar till bubbly. Enjoy!
Explore the endless possibilities of aromas: green tea, jasmine, rose tea, lemon, hibiscus flower, earl grey, orange flower, lemon grass, rosemary, etc.
Note: Be sure to drink 2 additional 8 oz glasses of water above & beyond half your body weight for every cup of tea or coffee.
Arugula Salad
Ingredients:
1 Garlic clove; peeled
1/4 ts Salt
2 tb Balsamic vinegar
1 ts Dijon mustard
1/3 c Olive oil
2 c Mixed lettuce leaves
1 c Arugula; stems removed
1/2 lb Mushrooms; sliced
1 Sweet red pepper
In a wooden salad bowl, rub garlic and salt into the bowl to season it. Combine vinegar, mustard and olive oil; stir. Tear lettuce into bite sized pieces, along with arugula. Add mushrooms and slices of red pepper. Toss well and serve
Red Cabbage Slaw
Ingredients:
1 sm Red cabbage
1 tb Fine minced ginger
1 Lemon ; juice of
1 ts Olive oil
Ground coriander
Ground cayenne
Shred a small red cabbage finely for slaw. Add 1Tbs very finely minced ginger to the shredded cabbage. Dress with the juice of one large lemon, flavored with 1tsp. olive oil and ground coriander and cayenne to taste.
Barbecued Vegetable Salad
Ingredients:
Salad:
3 zucchini
2 sweet red peppers
1 bunch green onions
8 tomatoes
6 asparagus
olive oil, as needed
salt and freshly ground pepper to taste
Dressing:
2 Tablespoons apple cider vinegar
1/2 cup olive oil
1 Tablespoon minced fresh basil
1 Tablespoon minced fresh oregano
Preheat barbecue medium-high. For salad: cut zucchini into strips and peppers into quarters. Cut green onions in 2 lengthwise. Quarter tomatoes. Snap or cut off tough bottom part of asparagus spears. Combine all vegetables in a bowl. Add a thin stream of oil, salt, and pepper. Toss to coat uniformly. Grill vegetables in the basket or specific wok for the barbeque. Cool. Cut vegetables into 1-inch pieces and transfer to serving dish. For dressing: pour vinegar into a small bowl. Stir in oil, basil, and oregano. Drizzle over vegetables. Serve this salad with chicken brochettes or Ideal Protein chicken soup.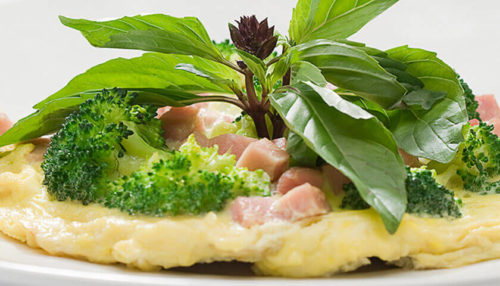 Broccoli Frittata
This yummy Broccoli frittata is a family-friendly favourite that is quick and easy to make with just 4 simple ingredients you likely have on hand! These are great served warm and can also be eaten cold.
Ingredients:
4 egg
8 egg Whites
1/2 lbs ham
7 cups broccoli, chopped, cooked
1 cup parsley, chopped fine
Blanch broccoli in salted, boiling water. Cool. Chop.
In a large bowl, beat all eggs, add parsley, basil, salt and pepper until just blended. Stir in broccoli, ham and parsley.
Heat oil in a 10" ovenproof skillet over medium heat. Pour in egg mixture. Cook over low to medium heat until eggs are almost set but still moist on the surface about 10 to 15 minutes.
Cut into wedges to serve.
NOTE: Frittata may be served hot, warm or cold.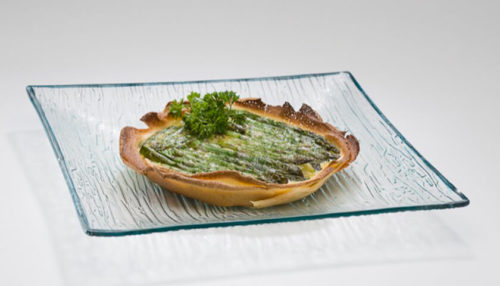 Quiche
Ingredients:
1/2 lbs ham, diced
2 packets Ideal Protein Pancakes, prepared (4)
8 eggs
4 cups spinach
2 cups green onions
2 cups asparagus
Line an oiled pie mold with prepared pancakes (for pie shell).
Bake in a 375-degree oven for 5 minutes.
Sauté spinach, green onions and asparagus.
Add ham.
Put well drained vegetables & ham mixture in pie shell.
Beat eggs.
Pour in pie shell.
Cook 15 minutes or until eggs are set.
NOTE: Allow to cool for a few minutes before serving.
---
Phase 4 Recipes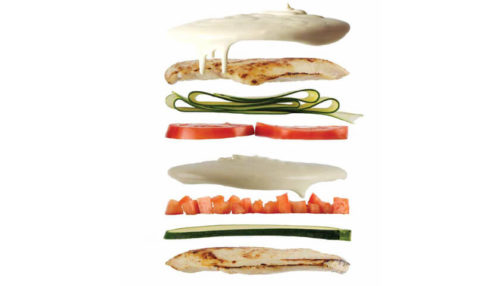 Pasta Free Lasagna
This healthy pasta free lasagna substitutes pasta noodles with zucchini noodles. This recipe is layered to perfection!
Ingredients:
24 oz turkey, boneless, skinless and sliced, 4 breasts
4 zucchini, sliced lengthwise, noodle shape
1 cup green onions, finely chopped
2 clove garlic, finely chopped
2 cups mushrooms, sliced
1 cup spinach, chopped
1 cup tomato sauce
1 cup tomatoes, chopped
1 cup cheese, mozzarella or white cheddar, grated
1 tsp dried basil
1 tsp dried thyme
2 tbsp grapeseed oil
1 tbsp butter
4 cups mixed greens
2 oz Ideal Protein Salad Dressing
sea salt and pepper
Heat half the oil in a pan and sauté the garlic until soft, but not browned.
Add the chopped spinach and cook 1-2 minutes or until the spinach is completely wilted.
Add sea salt, pepper, basil and thyme, green onions and stir to mix.
In a separate pan, heat the remainder of the oil and quickly saute the turkey strips.
Remove the turkey and cook the mushrooms for 1-2 minutes.
Add the turkey to the pan with the onions, garlic and spinach.
Blanch the zucchini noodles until soft.
Remove and cool in cold water for 1 minute.
When they are cool enough to handle, spread a layer of zucchini noodles in a pan small enough to contain them so that they just touch one another.
Cover the zucchini noodles with a portion of the onion, garlic, spinach and turkey mixture and alternate layers.
Once the layers are completed, spread mushrooms on top.
Add the fresh chopped tomatoes and pour the tomato sauce evenly over the noodles.
Top with the cheese and dollops of butter.
Bake, uncovered, in a 350˚F oven for 45 minutes until bubbly and the cheese is melted.
Serve with mixed green salad and a low carbohydrate salad dressing.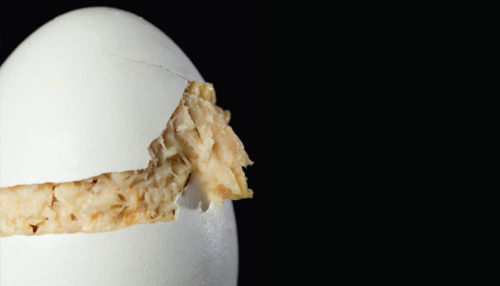 Stuffed Eggs with Tuna Salad
Eggs and tuna! Are you kidding me??? This meal for four is a dream come true. A nutritious, protein-filled delight!
Ingredients:
8 eggs
1 tuna, can
6 tbsp mayonnaise
3 tbsp chives, finely chopped
1 tsp tabasco sauce
6 cups lebanese cucumbers, finely sliced
3 tbsp white vinegar
2 cups pear, diced
4 whole wheat bread slices, toasted (optional)
sea salt and pepper, to taste
Boil eggs for 9 minutes, Remove and place in cold water to cool.
Peel and set aside.
Combine mayonnaise, chives, white vinegar and Tabasco sauce.
Drain tuna and add to mixture.
Cut shelled eggs in half and scoop out the yolks.
Mash yolks in a small bowl and add to mayonnaise mixture along with diced pears.
Stuff egg halves with mixture.
Spread a layer of finely sliced cucumbers along the bottom of 4 plates.
Place 3 portions of stuffed eggs on top.Serve stuffed eggs with whole wheat toast.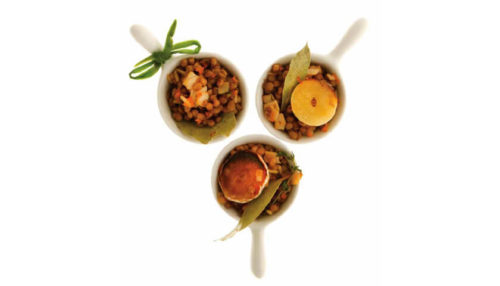 Spicy Lentil Salad with Smoked Turkey
This healthy pasta free lasagna substitutes pasta noodles with zucchini noodles. This recipe is layered to perfection!
Ingredients:
1 cup brown lentils
2 1/2 cups water
1/2 cup onions, finely chopped
2 clove garlic, finely chopped
1/2 cup carrots, diced
1 tsp thyme, fresh
2 bay leaves
2 cups red bell peppers, finely chopped
2 cups green bell peppers, finely chopped
2 cups red onions, finely chopped
2 cups celery, finely chopped
1 cup parsley, fresh, finely chopped
2 cups turkey, smoked, cooked, cubed
2 tbsp grapeseed oil
3 tbsp vinegar
1 tsp cayenne powder
sea salt and pepper, to taste
1 tsp cumin, ground
Put lentils, onions, garlic, carrots, thyme and bay leaves in boiling water and simmer for 25-35 minutes or until the lentils are soft.
Stir occasionally, checking the water level and adding more if necessary.
Whisk together the oil, vinegar, cayenne pepper, cumin, sea salt and pepper.
Combine the bell peppers, onions and celery in a bowl.
Pour the oil and vinegar mixture over the vegetables.
Add the parsley, cooked lentils and smoked turkey.
Combine well.Served very hot, it makes a beautiful winter dish.