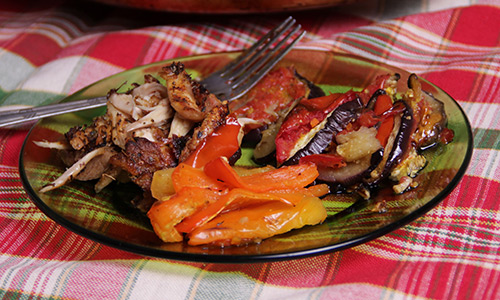 Ingredients:
3 tablespoon(s) extra-virgin olive oil
3 tablespoon(s) chopped fresh basil
1 tablespoon(s) chopped fresh marjoram
1 teaspoon(s) salt
Olive oil cooking spray
1 red bell pepper, halved lengthwise, stemmed and seeded
1 small eggplant, cut into 1/2-inch-thick rounds
1 medium zucchini, halved lengthwise
4 plum tomatoes, halved lengthwise
1 medium red onion, cut into 1/2-inch-thick rounds
4 boneless, skinless chicken breasts (about 1 1/4 pounds), trimmed and tenders removed
1/4 teaspoon(s) freshly ground pepper
1 tablespoon(s) apple-cider vinegar
Instructions:
Preheat grill to medium-high.
Combine oil, basil, marjoram and salt in a small bowl and reserve 1 tablespoon of the mixture in another small bowl; set aside.
Coat both sides of bell pepper, eggplant, zucchini, tomato and onion pieces with cooking spray.
Grill the vegetables, turning once, until soft, and charred in spots, about 5 minutes per side for the pepper, 4 minutes per side for the eggplant and zucchini and 3 minutes per side for the tomatoes and onion.
As the vegetables finish cooking, place them in a large bowl.
Cover the bowl with plastic wrap.
Rub the tablespoon of reserved herb mixture on both sides of chicken and sprinkle with pepper.
Grill the chicken until cooked through and no longer pink in the center, 4 to 5 minutes per side.
Meanwhile, transfer the grilled vegetables to a cutting board and chop into 1-inch pieces.
Return to the bowl and toss with vinegar and the remaining herb mixture.
Serve the grilled chicken with the ratatouille.