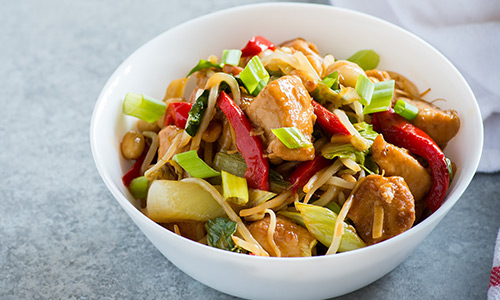 Ingredients:
1 lb boneless skinless chicken breasts, cut in 3/4 in wide strips
3 peppers (choose upon own desired heat) , seeded minced
1 clove garlic, minced
1/2 cup snow peas
1 large red pepper, chopped
2 cups bean sprouts
1/4 cup soy sauce
2 tbsp fresh basil, chopped
1/4 cup olive oil
Instructions:
Trim any fat from chicken.
In a large skillet or wok, heat up half the oil (2 tbsp) over medium heat.
Add chicken strips a few at a time, brown a few minutes and set aside.
Add remaining oil to wok and fry pepper, garlic, snow peas, and red pepper for 4 min.
Return chicken and accumulated juices to wok/skillet.
Add bean sprouts, stir in soy sauce, and cook for a few minutes.
Add fresh basil before serving.