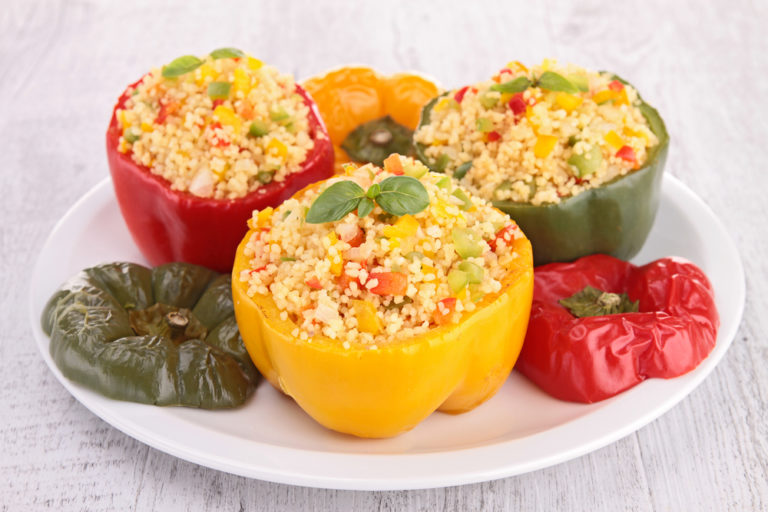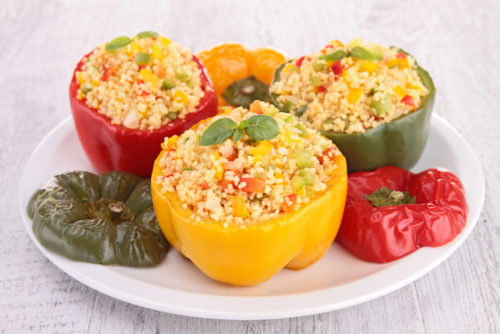 Ingredients
4 large bell peppers (any color)
1 lb extra lean ground beef or ground turkey
1 clove garlic, minced
1 cup cauliflower, grated **See cauliflower rice recipes in the tip of the week for extra flavor**
1 teaspoon sea salt
1/4 teaspoon black pepper
1 can (14.5 oz) diced tomatoes
1 can (8 oz) plain tomato sauce (low sugar or sugar free)
Directions
Cut thin slice from stem end of each bell pepper to remove top of pepper. Remove seeds and membranes; rinse peppers. If necessary, cut thin slice from bottom of each pepper so they stand up straight. In 4-quart Dutch oven, add enough water to cover peppers. Heat to boiling; add peppers. Cook about 5 minutes; drain.
In 10-inch skillet, cook meat and garlic over medium heat 8 to 10 minutes, stirring occasionally, until meat is brown; drain. Stir in cauliflower, salt, pepper, diced tomatoes and tomato sauce; cook until hot.
Heat oven to 350°F.
Stuff peppers with meat mixture. Stand peppers upright in ungreased 8-inch square glass baking dish.
Cover tightly with foil. Bake 30 minutes. Uncover and bake about 10 minutes longer or until peppers are tender.