Spinach Chips Recipe
INGREDIENTS
Spinach leaves 2 Cups (32 tbs) (big, healthy looking leaves)
Extra virgin olive oil 1 Tablespoon (as reqired)
Italian seasoning blend To Taste
Sea Salt To Taste
DIRECTIONS:
GETTING READY
1. Preheat the oven to 325 degrees F.
2. Line a baking sheet with foil. Set aside.
MAKING
3. In a bowl, put the spinach leaves. Put olive oil and mix it well without breaking or tearing the leaves. (I put the oil in an empty "I Can't Believe It's Not Butter" spray bottle, and spray the leaves. I find it gives a more even coverage with less oil use)
4. Sprinkle salt and Italian blend and mix well till all leaves are coated.
5. Take the foil lined baking sheet and arrange the leaves in a single layer without any overlaps.
6. Bake in the oven for 8 minutes. Remove from the oven and let it sit on the baking sheet for another 2 minutes.
7. Using a spatula, transfer them into a bowl or plate.
SERVING
8. In a serving bowl or plate, serve the spinach chips with a nice dip and a refreshing beverage.
TIPS
Make them in batches. Do not overcrowd the baking sheet. Every leaf should be exposed to the heat.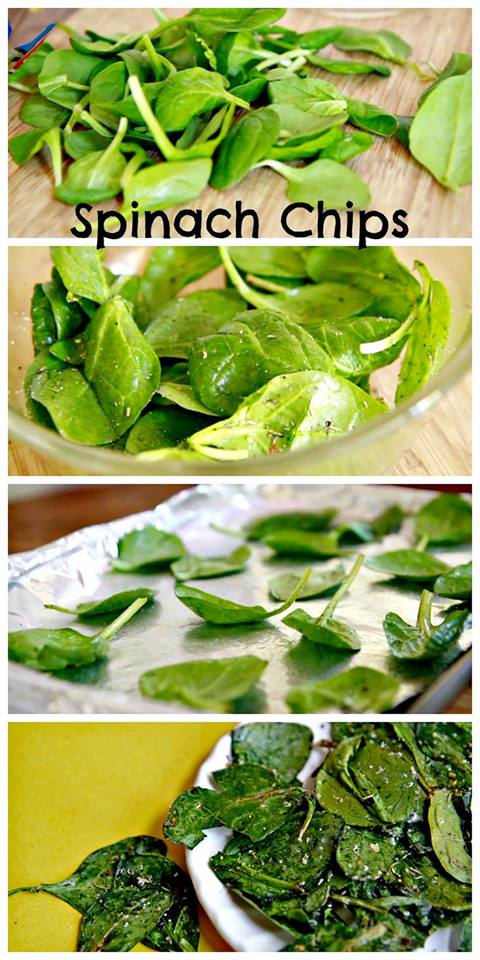 To read more and view video and original recipe click HERE