Wild Berry Muffins-  Another perfect breakfast on the go!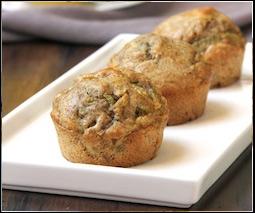 Ingredients:
1 Package of Ideal Protein Crispy Cereal
1 Package of Ideal Protein Wildberry Yogurt Drink Mix
2 Egg Whites, beaten slightly
½ Teaspoon Ground Cinnamon
1 Tablespoon Splenda/Stevia
4 Teaspoons Olive Oil
1 Teas of Baking Powder
3 Tablespoons of Water
Directions:
– Preheat oven to 350°F. Spray a standard sized muffin tin with olive oil spray.
– Before opening packet, crush IP Crispy Cereal until fine (powder consistency.)
– In a medium bowl, mix beaten eggs, ground cinnamon, Splenda/Stevia, olive oil, and baking powder. Once mixed, add in Wildberry Yogurt and Crispy Cereal. Slowly mix in water.
– Spoon mixed-up batter into muffin tins. (Makes 5 muffins.) If there are empty muffin cups in your tin, fill ¼ of the way with water to allow other muffins to bake evenly.
– Bake muffins for 10-12 minutes or until toothpick inserted comes out clean.
Recipe/Image Source: https://ideallyyou.org/recipes/wildberry-muffins